Prague Love Stories - portraits For every couple!
Our passion is telling the unique story of each couple as they explore the unforgettable beauty of Prague.
With a bit of guidance, we will create imagery that beautifully captures the visceral feeling you experienced at that moment in your lives.
PORTRAITS FROM THE HAPPIEST MOMENTS OF YOUR LIVES!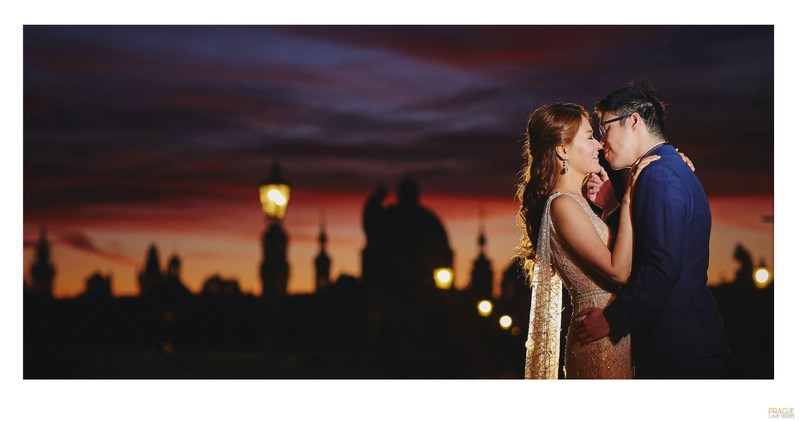 WHY PRAGUE LOVE STORIES?
It is a dream of many to travel to a far off land, to explore its unique & historical locations, to soak up its atmosphere and experience the essence of that special moment.
For some couples this is an adventure. For others a rite of passage. For most a celebration of a commitment made to each other.
Regardless of the journey you are on, you deserve the very best experience from your Prague portrait session. Finding the right photographer to beautifully capture those wonderful moments is truly priceless!
We know the best locations as well as those hidden gems. The best times and we especially know how to create an atmosphere where couples can enjoy the moment naturally.
We offer bespoke photography sessions such as pre weddings, post weddings as well as specially curated engagement portraits for those stylish couples who seek something truly unique in their adventures.
All of our portrait sessions come complete with Kurt and his lighting assistants to ensure you receive only the highest quality photos from your Prague portrait session.
---


Tell your story with our beautifully created products!
In addition to capturing and creating these beautiful portrait sessions - we believe in creating a unique album or fine art book that showcases your session. All of our designs are unique in nature and created with your input. Everything from image selection, image toning (yes we can certainly create those de saturated greens / fine art images that is so common) as well as layout and final designs are created with your input.
As we believe that these keepsakes should last a lifetime, all of our albums / fine art books are handcrafted in Europe to ensure the highest quality.
So how does the process work? Interested in knowing more?


Albums
We believe that there is a difference between an album and a picture book. An album is a series of images designed to craft an emotional response from each viewer. They are uniquely crafted to last a life time.
Each of our albums are a collaborative process between our clients and us. This ensures that you receive a unique album that suits your style & taste.


Shoot
During your photo session we capture and create images in both landscape and vertical format which gives us flexibility when it comes to your design. In some cases we may crop the images to give it a more classical square format.
Design
We work closely with all clients from the initial image selection to the selection of colors and materials in order to customize your album in the most personal way. Withe endless possibilities, we will guide you through the process to ensure the best possible combination for you.
You will select your favorite images and then we will create a design that best creates a narration.
Approval
After the 1st initial design, you can add or remove images as well as change the narration of the layout to ensure that your book is 100% as you wish it to be. We realize that sometimes you need a visualization of the layouts and that is why we offer up to 3 free complete revisions.
Retouching
After our approval of the layout, additional retouching of the images will be executed to ensure a consistency in the style and feel of your book. It is also at this stage that additional artistic enhancement can be made.
Delivery
Once your album design is approved, we will send you a copy of the spreads. Once you are 100% satisfied these spreads are sent to our printer in Europe. All albums are hand crafted, packaged and shipped to us. We will then do a QC inspection and contact you to arrange a delivery option.
In addition to our albums & fine art books we can also create unique art pieces to hang in your homes. Please be sure to visit our page dedicated to our art work.
---
Prague's specialist in on-location portraits
pre weddings I engagements I post weddings I lifestyle I portraits I Love Stories I couples
Address (appointment only)
Petřinska 41/4
P-5 Mala Strana
150 00 Czech Republic
the studio in Mala Strana is by appointment only