MINGSI & NICHOLAS // Prague overseas photo shoot
adventure, 6 hours, pre-wedding, featured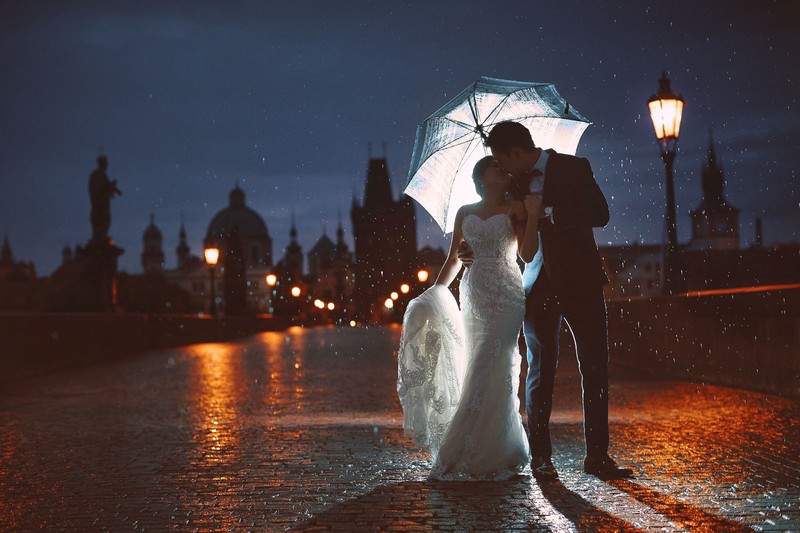 A Rainy start to a beautiful pre-wedding experience
I am often asked 'what happens if it rains?' Truth is we will either postpone it a day if we have the availability. But if we can not postpone due to either party's schedule we simply work through it. This is exactly the situation that our latest couple from Singapore, MingSi & Nicholas found themselves in - they simply had no choice. Their pre-wedding portrait session had to be captured that day.
As a professional, my first concern is keeping the clients happy. We started with a few portraits under the Charles Bridge where I focused on capturing some art shots. When I showed them the beauty of the raindrops frozen by the backlit lighting their eyes and smiles said it all. Instead of having a disaster, they had an image that exceeded their expectations.
And then it was time to go up onto the bridge. With our umbrellas in hand and a completely deserted Charles Bridge, we concentrated on creating some artistic portraits. The results speak for themselves. Just as we had a few different types it stopped raining and everyone breathed a sigh of relief. Shortly afterward the clouds parted and the morning sunrise began to take shape. It was a somewhat difficult start to our day that improved as time went on.
Our next stop after the Charles Bridge was the always-popular Old Town Square. This square is one of Europe's most beautiful and when these two arrived and took in the grandeur of it all they could only smile. One of the sweetest pictures is of Nicholas bending down to assist MingSi with her shoe. It was one of many quiet moments they experienced. One of my favorite images from the square is when we covered their faces with the veil and as they smiled and laughed Nicholas sweetly kissed his bride2be. It is a picture that many couples have asked about having.
The wonderful thing about MingSi & Nicholas's pre-wedding photo session? Just how happy they were with everything and that their images exceeded their expectations. Nicholas was kind enough to leave some words on Google about their experience:
The day started out wet but Kurt made sure to utilize the environment to snap some of the best photos we had ever seen.
The old adage applies: when you invest in a professional you will receive professional results. Sometimes you will end up with images that will blow your mind too!
a modern, clean album design that focuses on playing up their beautiful imagery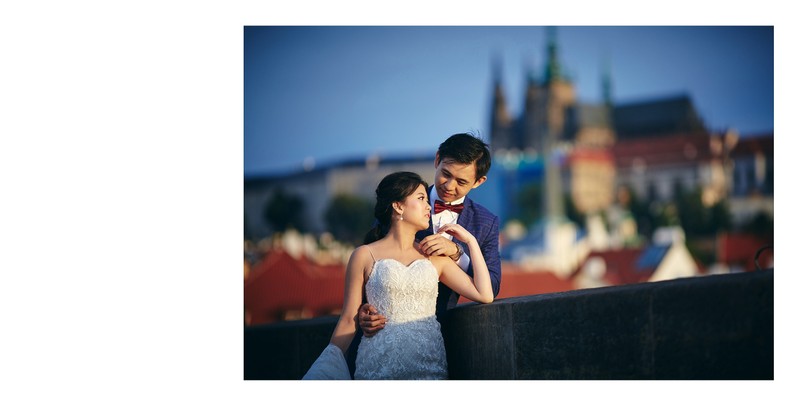 ---
Prague overseas pre-weddings
pre weddings I engagements I post weddings I lifestyle I portrait I Love Stories I couples
Address (appointment only)
Petřinska 41/4
P-5 Mala Strana
150 00 Czech Republic
the studio in Mala Strana is by appointment only