Our Most FAQ about OUR Portrait SessionS in Prague
Have questions? We have answers. Our FAQ page details nearly every aspect of having a successful portrait session.
LOCATIONS & TIMELINES
We create timelines with your input after discussing the type of session and the locations you desire. Or we can simply take you on a fun-filled tour of the best locations depending on the amount of time you have budgeted. The pace is always set by the clients and we will take in as many wonderful locations with the time we have.
DO WE NEED A CAR TO GET AROUND?
As Prague is such a small and compact city you will actually see more and experience more as opposed to sitting in traffic which can be quite bad here. Due to this we do not recommend having a car. The only exception is during the winter themed sessions where getting in and out of the cold is always a nice respite. For couples who prefer to be driven around we do work with several companies and can offer their services. Rates are roughly 25 EUR per hour. Please note there is a 4 hour minimum.


WHEN TO BOOK YOUR SESSION?
As the summer months are always in demand it is best to book your session as much in advance as possible.
WHAT IS OUR BASIC RETOUCHING?
Our standard image creation consists of: overall color balance, density, contrast and at times fine art looks. This process can take up to 4-6 weeks (high season) to create as we wish to provide you with an image that are nearly finished and not SOC files (images taken straight out of the camera without any adjustment). Once the color correction is finalized we will then present these images to you.
Upon receiving your list of selected files we will then proceed with creating a more finished look that consists of removing blemishes, skin lightening (upon request) eyes and teeth brightening as well as remove any issues that we feel detract from the overall beauty of your images. Our overall goal is to create a more natural look to your images and as such we do not do heavy glamour retouching. For our clients from Asia who wish to have a Glamour Glow filter - please contact us for rates on this extra procedure.
ARTISTIC ENHANCEMENT
For select images (at our discretion) we will artistically enhance certain images that we feel could benefit from this style. This may mean adding a bit of warmth, or removal of objects or distractions that we feel detract from the overall beauty of our imagery. As our time is quite limited this is entirely at our discretion. For clients who wish to have more artistic enhancements created after they received their completed files, we will arrange a consultation to discuss what exactly your wishes are and discuss pricing for the additional retouching time.
BODY MODIFICATION
Please note that we do not slim thighs, shoulders, arms and etc, nor do we remove people, objects and cars as a part of our basic retouching. As this is very time consuming we would need to bill accordingly for our retouching services. Though in certain situation our retouchers may remove any issues that they feel detract from the overall beauty of the image – again this is at our discretion. Special requests will be considered but extra fees may apply.
HOW LONG DOES IT TAKE?
Typically we need 4-6 weeks to edit your session as well as create the look and style that we feel best suits you. If you are having a portrait session it is usually 4-6 weeks to edit and once we have your list of selects another 4-6 weeks to finish. For Marriage Proposals - contact us for our availability and options.
EXPRESS SERVICE
Depending on the type of session this may be possible. Please contact us for information and pricing options.
HOW MANY IMAGES DO YOU SHOOT DURING EACH HOUR?
Anywhere from 30-40 images per hour depending on the situation and how outgoing each couple are.
CAN YOU SHOOT VIDEO OF US DURING THE SESSION?
I only concentrate on the stills aspect. However, if you wish to have an artistic video created & art directed of your session we can assist you in that area. Please note that there are two unique styles of video shooting: the first is a reportage of the behind the scenes of your portrait session. While the 2nd is a completely separate aspect that will take place during your portrait session. Please note that for the 2nd type of shooting you must also give ample opportunity for the video team to art direct and create. This is only advisable for larger sessions due to the time constraints.
The crews that we love to work with are:
Collective Productions - led by American cinematographer Cary Hubbs and his partner Peter Leibitzer.
PrimetimeVideo - led by LEOŠ BRABEC one of the best in the region.
CAMERA EQUIPMENT
SONY A7III, Canon EOS5DMarkIII, EOS5DMarkIV, Canon EOS1DsMarkIII, Mamiya RZ67II (PhaseOne) and literally every lens you can think of including some out of this world vintage Russian & Ukrainian lenses
OUR WORKSTATION
We only use Capture One Pro, Adobe Photoshop and are running 5K resolution monitors across our work stations. Capture One Pro is recognized by professional and studio photographers worldwide as the best photo editing software. Our computer systems are Apple MAC (5K Imac and Mac Pro systems).
BOOK DESIGN AND IMAGE SELECTION
Based on your image suggestions we will create the first layout and send it to you for review. If you wish to substitute other images and or change the page locations you can as you will have up to 3 free revisions before additional design fees will incur (prorate of 50 EUR per hour to cover the designers time).
We believe that as your session is an investment, having a beautiful, hard back, leather designer album that showcases your artwork is very important. Our basic albums have environmentally conscious faux leather (though you can also chose a linen style), real archival photo paper available in Lustre or semi-matte and lay flat pages. These books are lovingly created and have always wowed our couples. To view sample albums please visit our section.
For many couples viewing these books in person is simply the best way to assess them. During our consultation meeting (if possible) we would be quite happy to show you our samples so that you can judge them yourself.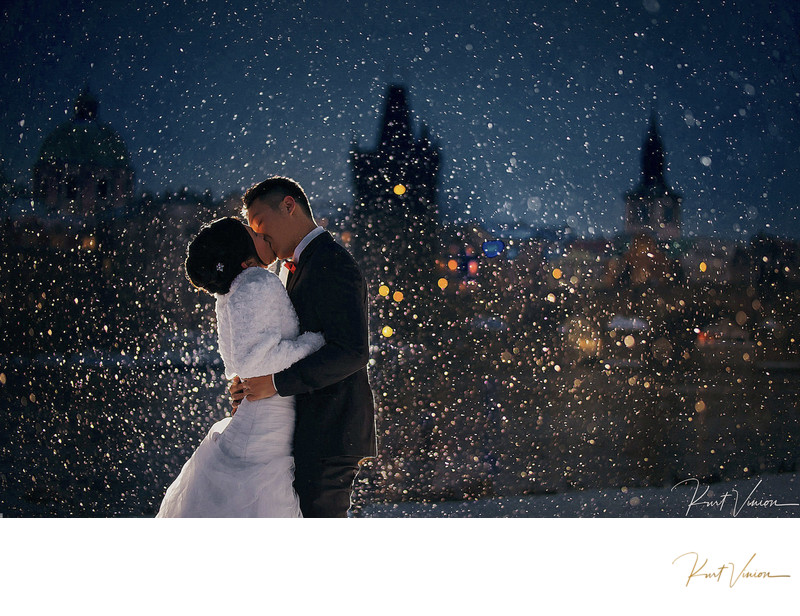 WINTER THEMED PORTRAIT SESSIONS
For those couples wishing to have a dreamy winter themed session – the best months are December – February. Though we can not guaranteed full cooperation with the weather. Be warned that though these sessions are quite beautiful, the cold weather does slow us down considerably.
WHAT TO WEAR
Dark clothes are always a bad idea for night time shooting. Loud patterns are also not a good idea as they distract. As fashion is truly subjective it is up to you. For our ladies wearing high heel shoes in Prague can also be quite demanding so please keep that in mind as the cobblestones of the Charles Bridge have happily eaten up a Manolo Blahniks and lesser priced shoes. For our larger sessions it is best to take a comfortable pair of walking shoes.
WEDDING DRESSES, TUXEDOS, EVENING WEAR OUTFITS
We strongly believe that you should bring your own outfits so that you can enjoy your visit to Prague without spending hours trying to source the right outfits. However we do realize that this is not always practical. As such we can highly recommend the following Ateliers.
Salon Maya - www.Salonmaya.cz - they have English speakers on staff and it is best to contact them in advance or at least view their online offerings.
Calla Lily The Bridal Shop - a new shop with a wonderful staff in the city centre. facebook.com/callalilytsb and you can find them at: Anglicka 520/13, 120 00 Praha +420 (0) 723 770 770
Kleinod Gentleman Store - high quality suits and accessories for every man - www.kleinod.cz - they usually have English speakers on staff as well as online offerings.
There are many others and you can find them online.
HAIR & MAKEUP
I not only work with certified hair & makeup artists who speak English fluently.
How does it work with the hair & makeup artists?
Once you have finalized your date, you should send us photos of your outfits and your chosen hair style. Recent photos showing your hair length is very important. For those ladies who have skin issues, please mention this in advance so that you have the right makeup for your session. About a week before you arrive your hair & makeup artist will contact you to discuss your session and any needs you may have. As we believe in creating a stress free session we want you to also have an idea of who you are dealing with.
---
Additional useful resources for a more informed and pleasant stay in Prague!
One of our favorite online resources featuring what to do, see and how to make sure you are not scammed in Prague featuring Janek & Honza.
The Honest Guide - check out their YouTube channel for their weekly series of videos
Prague Monitor - English website for news in the Czech Republic and especially Prague.
Radio.cz - English website with news and features on life in the Czech Republic
TAXIS in Prague
We do not advise taking a taxi on the street. Prague has a well warranted reputation for taxis who will happily rip you off and they nearly always get away with it as the police rarely provide a positive outcome. If you must use a taxi on the street ask for the price up front and make sure you have cash in hand to pay.
If you do need a taxi in Prague you do have options.
UberPOP (same as UberX), UberSelect, and UberBlack. The first one is the cheapest option and gives you a random car of any class. It's officially a ride-sharing service, so it's not regulated in any way. UberPOP is practically the same as UberX in other countries, the difference being that UberPOP drivers are not allowed to make a profit, only share the ride. With UberBlack you will get a professional driver with a luxury car, typically a black Mercedes-Benz E-Class.
UberSelect is somewhere in between these two. For costs approximately 30% higher than UberPOP, you will get a more comfortable car (Skoda Octavia, Volkswagen Passat, Ford Mondeo) which is brand new (or almost new). Also, the drivers of UberSelect have higher ratings and know Prague's routes much better.
Other reputable companies that are in Prague are: Tick Tack Taxi, Bolt, Liftago and Modry Andel. With Bolt you will need to download their App. There are many other companies in Prague but over the years either the service has gone down quite a bit, the quality of the cars are poor or simply they have a well deserved bad reputation. Stick to the ones recommended here and you should be fine.
If you wish to use public transport from the airport to the city centre please visit this link here to see an online video on how best to do it. Or you can stop by the information desk at the airport to receive more information.
---
Prague's specialist in on-location portraits
pre weddings I engagements I post weddings I lifestyle I portraits I Love Stories I couples
Address (appointment only)
Petřinska 41/4
P-5 Mala Strana
150 00 Czech Republic
the studio in Mala Strana is by appointment only