A VISUAL GUIDE TO THE BEST GARDENS IN PRAGUE FOR YOUR PORTRAIT and or wedding photo SESSION
For many couples visiting Prague the first question they ask is where to go? The historic Charles Bridge, Astronomical Clock, the Old Town Square, Prague Castle and many places in and around the riverside in Mala Strana are the obvious choices. However Prague is also renown for its stunning & historic gardens. For anyone considering having a portrait session or are in need of a stunning outdoor wedding location - these gardens should be considered.
Presented here is a short list of our favorite gardens with some pros and cons about each.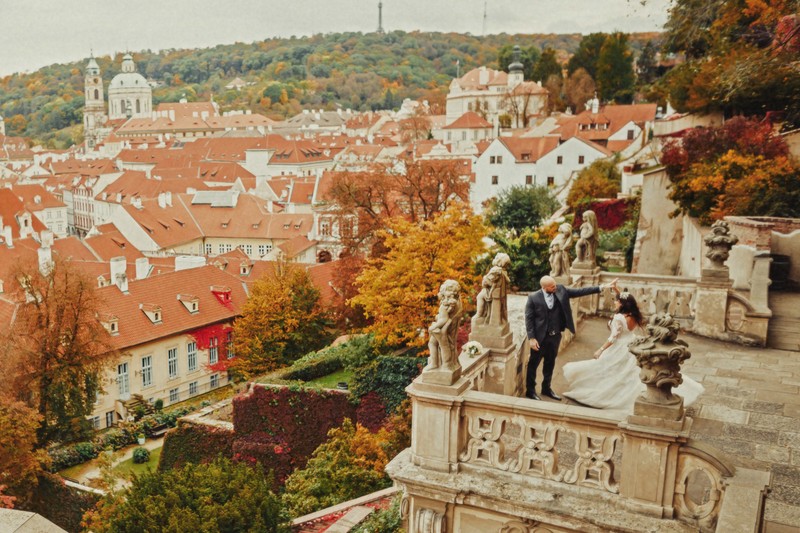 Ledebour Garden - upper level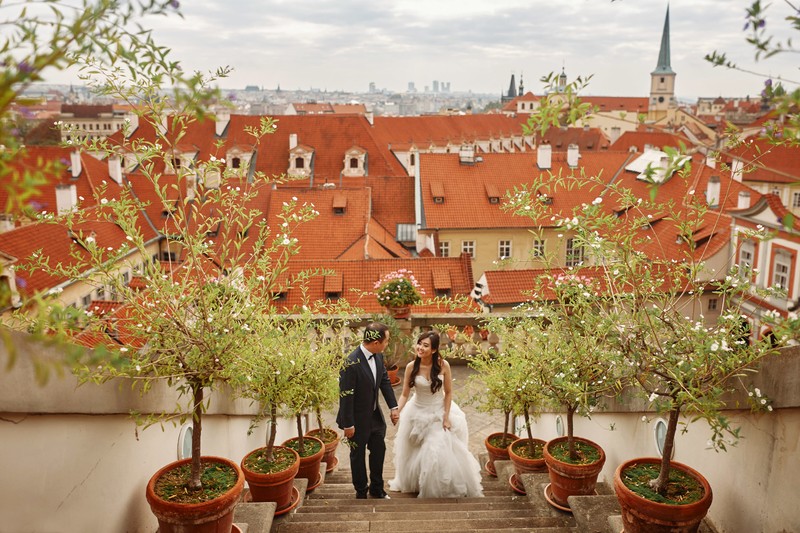 Ledebour Garden - middle level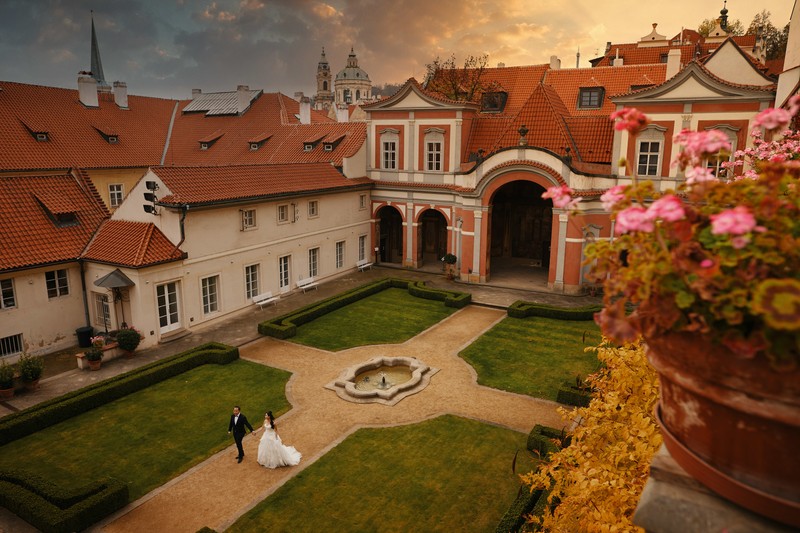 Ledebour Garden - lower level
Offering several visually stunning levels overlooking Prague especially the historic Mala Strana below, this garden offers a wide array of architectural elements, including a few hidden surprises.
the most visually beautiful garden in Prague with stunning architecture and garden motifs
a perfect location for portraits - though it is advised to budget up to 2 hours here
a small cafe offers refreshments and there are WC facilities
the downside:
it is a steep walk up hill that offers very little shade
high heel shoes are not advisable
the early morning light is direct and as such it can be quite hot in summer months
admittance fee is 1000 CZK (40 EUR) for commercial photography
no parking
wedding venue which means the lower level may not be available at certain times
---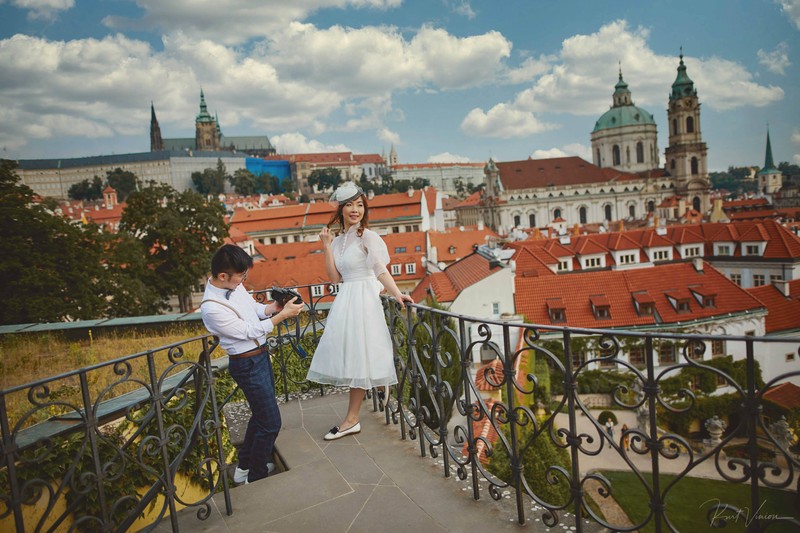 Vrtba Garden - upper level - with Prague Castle & St. Vitus (L) and St. Nicholas Church (R)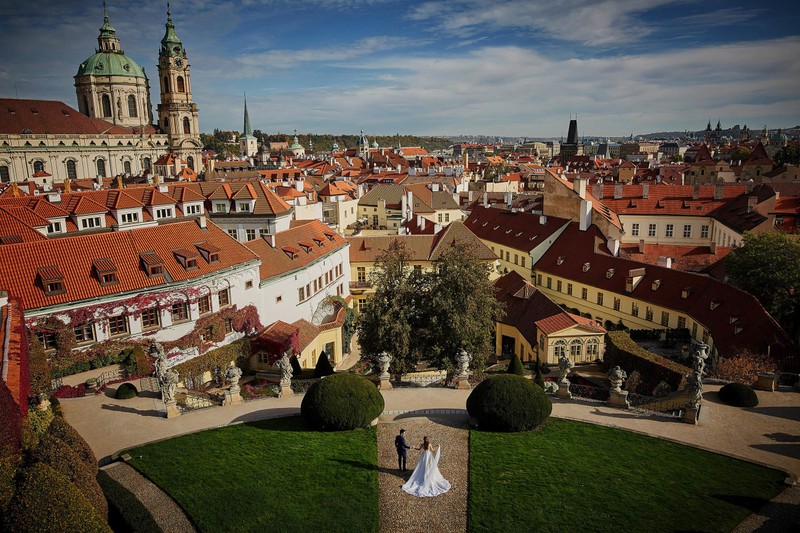 Vrtba Garden - from upper level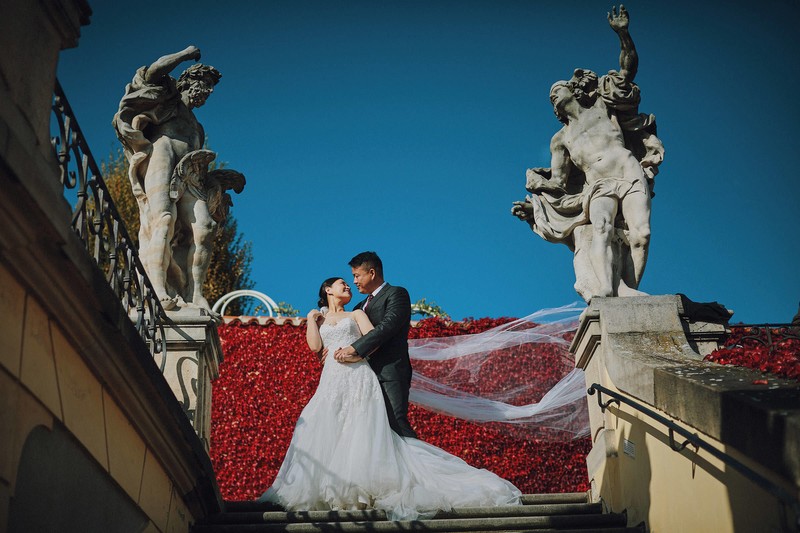 Vrtba Garden - middle section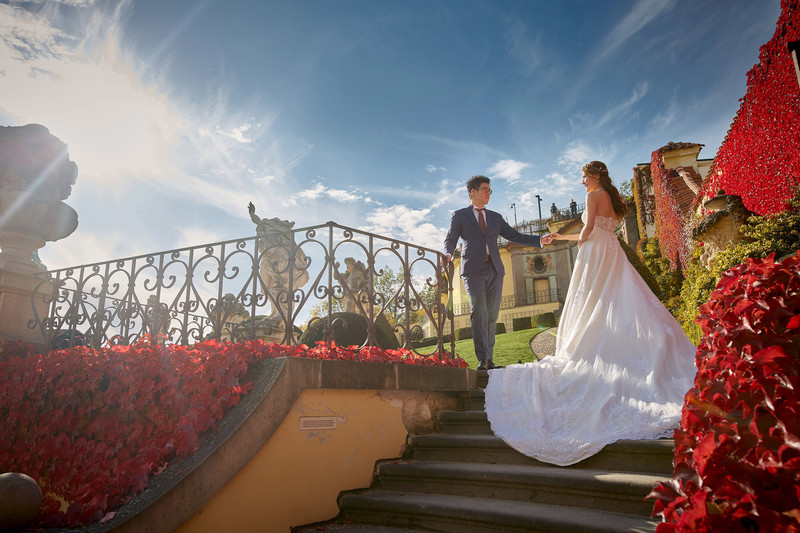 Vrtba Garden - middle section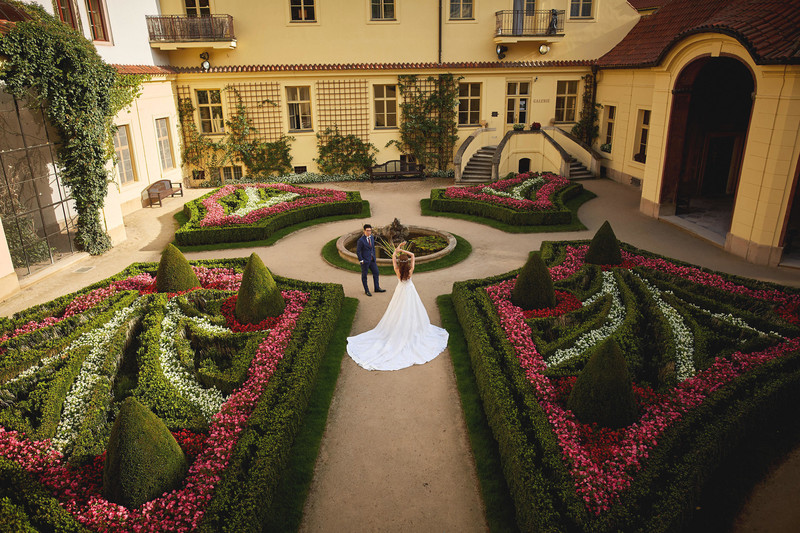 Vrtba Garden - lower level
One of the most charming Baroque gardens in Prague offering 3 levels of incredible views. The views from this garden are not only impressive, but should be a must have for couples investing in a Prague pre wedding photo session. The most sought out location for garden motifs in Prague.
perfect for couples who desire beautiful garden motifs
various levels offering wonderful backdrops and views from above
perfect for capturing dramatic skyline images of Prague Castle and St. Nicholas Church
for photo shooting with limited time (less than 90 minutes) this garden is the best choice
WC facilities
the downside:
admittance fee of 500 CZK (20 EUR)
it is an uphill and a steep walk
not advisable for high heels
no parking
popular wedding venue which means lower level may not be available
very popular with photographers and couples especially in the afternoon
---
The most popular garden in Prague is undoubtedly those at Prague Castle. Offering unique gardens and wonderful locations with incredible historic architecture you can easily spend an entire day here.
picturesque views overlooking Prague
stunning architecture
unique locations for picture taking
free admittance
the downside:
waiting times can be up to 45 minutes to enter the castle complex
extremely busy with tourists
you are not allowed to walk on the grass
for photo shooting it is not recommended
---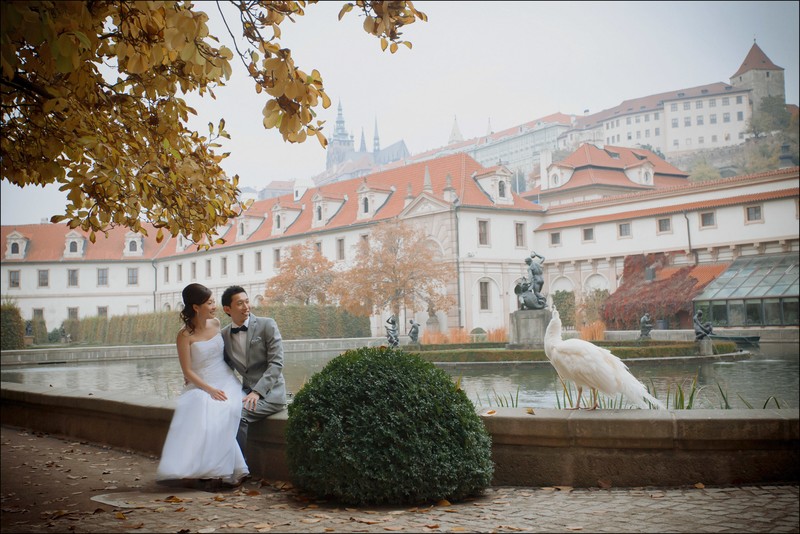 One of the famous albino peacocks who live at the Wallenstein Garden
A historic garden offering beautiful landscaped grounds with a small man made lake, stunning views looking up towards Prague Castle and interesting architectural elements. Home to the Parliament of the Czech Republic, its grounds are open to the public and also home to many peacocks who live there.
stunning architectural views of Prague Castle from below
ideal times are very early in the am or late afternoon when the sun is behind the castle above
unique locations for picture taking both with the architecture and gardens
free admittance
WC facilities
the downside:
with many concerts in the summer months it can be quite busy
on the tourist route
---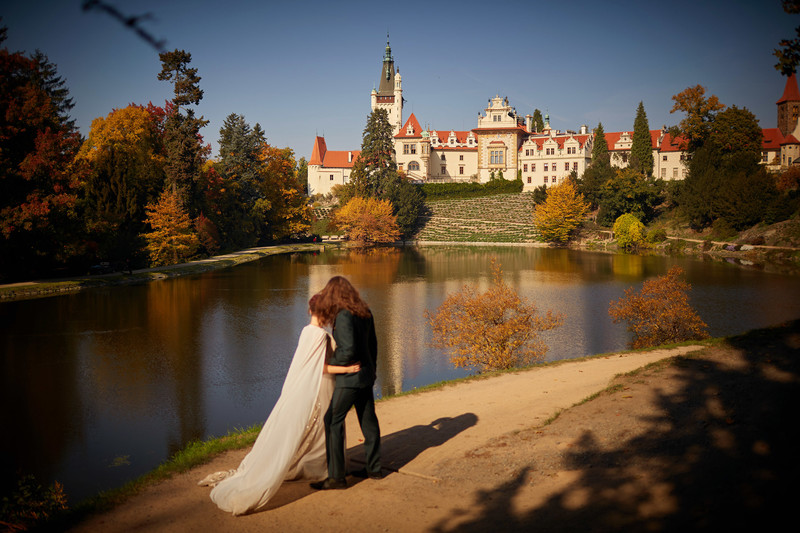 This garden is located 30 minutes south of the city centre. In addition to the large expansive garden, Pruhonice Castle overlooking the lake and garden below is an oasis of calm for couples who are willing to travel outside of the city centre.
lush greenery and gardens with a stunning castle overlooking the lake provides a unique backdrop
garden locations for picture taking
the downside:
paid admittance for commercial photography
traveling to and from the city centre is on average 60 minutes
to really capture this location you would need to spend at least 90 minutes here to simply walk around to the lake itself for the view pictured above
---
Prague's specialist in on-location portraits
pre weddings I engagements I post weddings I lifestyle I portraits I Love Stories I couples
Address (appointment only)
Petřinska 41/4
P-5 Mala Strana
150 00 Czech Republic
the studio in Mala Strana is by appointment only