PRAGUE CASTLE BEFORE SUNRISE ENGAGEMENT SESSION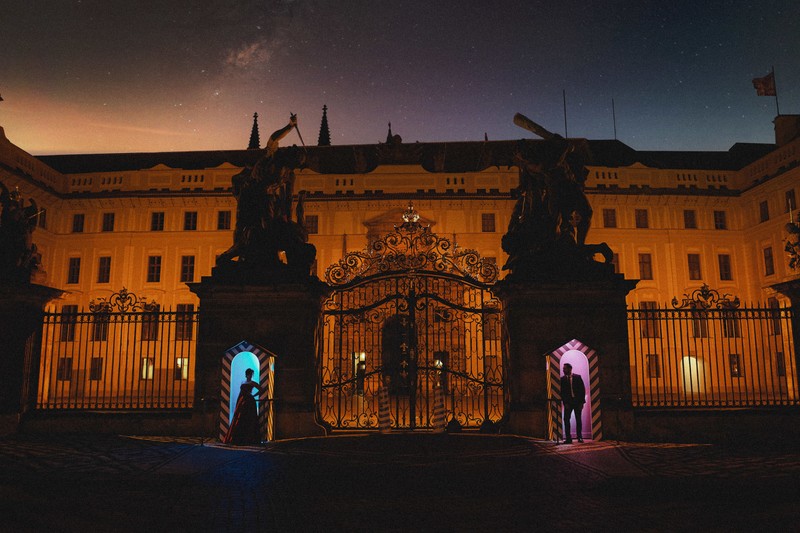 Angie & Uriel are obviously a very sexy couple - one who traveled over from sunny southern California for an unforgettable engagement experience. We started their session very early in the morning so that can see for themselves just how romantic the night-time ambiance of Prague and especially the castle can provide.
We explored Prague Castle where the cobblestones were lit only with the gas lamps in the historic square. They walked around, laughed, danced, kissed, and held each other tight as they enjoyed the incredible moment. Of course, we also had some very stylish portraits such as them standing in the guard shack as the early morning sky flared above. It truly was that magical and those kinds of 'lit portraits' can only be created with a dedicated team of lighting people who can work quickly.
But then it was time to walk down the historic castle steps to the Charles Bridge where these two were able to soak up the warmth of the sun as the sky lightened above the towers above.
After a few fun moments where Angie playfully flipped her dress (and of course many other photographers were taking their pictures as well) we slowly walked toward the Old Town Square where we were surprised at how empty it still was. Usually, there is a queue to take pictures underneath the Astronomical Clock but on that morning it was surprisingly empty - which allowed us to capture the images of them enjoying their time there with very few distractions.
It is always nice when couples have ideas of their own and when a couple has their complete trust in me so this session felt a bit like a collaboration of efforts resulting in some of their favorite images that they will cherish for a lifetime.
Presented here is a small collection of images from their collection.